Traveling can be stressful and time-consuming, but it doesn't have to be. Travelling is an adventure, and with the right set of tools, you can make sure that you're prepared for any situation. Whether you're a frequent traveler or an occasional globetrotter, having the right boot bag is essential for any journey. Not only do boot bags keep your shoes organized and protected, but they also offer easy portability and can save you money. With so many boot bag options available, it can be overwhelming trying to find the right one for your needs. To help you out, we've rounded up 10 of the best budget-friendly boot bags that are perfect for travel.
Why You Should Have Boot Bags for Travel?
Traveling can be overwhelming, especially when it involves packing. Trying to fit all of your things into a suitcase can be difficult, especially if you need to bring multiple pairs of boots. That's why having a boot bag is essential for any traveler. Not only are boot bags great for protecting your boots, but they also make packing and organizing your items easier and more efficient. Boot bags are specifically designed to store and transport boots, making them the perfect accessory for anyone who loves to travel with their boots in tow.
Case4Life Boot Bag for Cowboy Boots for Travel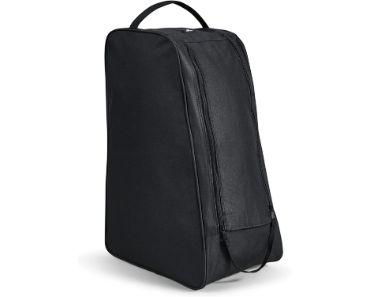 Special Features
Suitable for all kinds of shoes.
Easy to carry with a carry handle.
Made of water-resistant nylon material.
Durable large zip opening.

The Case4Life boot bag for travel is a great way to store and transport your tall boots, rain boots, and cowboy boots with ease. With a large double zip and a durable exterior, this bag will keep your boots clean and safe when on the go. You can store a variety of items such as equestrian, cowboy, hiking, ski, snowboarding and tall boots. The outer layer is made from a tough water-resistant material which keeps water out and your boots protected. The inside of this boot bag for travel is a protective dustproof lining to keep your belongings protected whilst in storage.
MIRACOL Large Capacity Travel Boot Luggage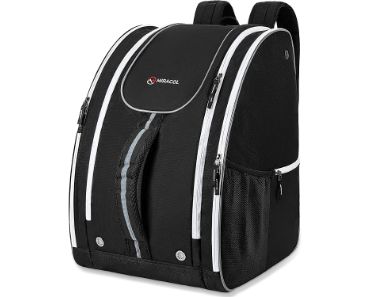 Special Features
Made of 100% polyester material.
Large spacious main compartment.
Waterproof and breathable design.
Lightweight and durable.

The MIRACOL travel boot luggage is an excellent backpack for ski boots and gear that will help keep your gear organized, dry, and protected from water. It features a front cover that can be opened as a standing mat to keep your feet dry when changing shoes. The MIRACOL boot luggage has an adjustable shoulder strap, making it more suitable and comfortable to use. This high-quality, durable pack includes a waterproof outer layer and padded internal dividers that are designed for every ski lover.
YCD-FLOCW Large Capacity Backpack for Ski Boots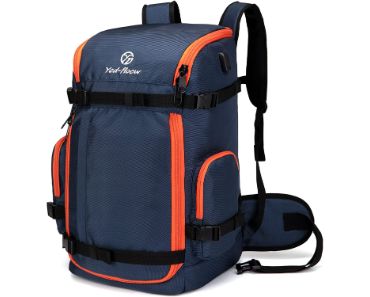 Special Features
50L of large capacity.
Sturdy two-way metal zipper.
Large main compartment with 3 zippered pockets.
Dedicated breathable boots compartment.
Non-slip waterproof bottom design.

YCD-FLOCW backpack is a waterproof polyester ski boot bag that provides an excellent storage solution for your skiing equipment. The backpack has a large 50L capacity and can accommodate boots, jackets, helmets, goggles, gloves, bibs, phones, keys, etc. The unique triangular zipper provides easy access to the boot compartment, you don't need to open the entire boot bag when removing or storing your ski or snowboard boots. The backpack has a waterproof and durable material with a well-padded design, padded with EVA to protect fragile items.
Case4Life Water Resistant Boot Bag for Travel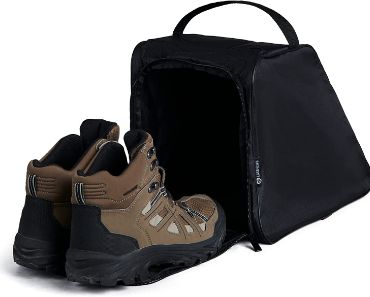 Special Features
Suitable for all kinds of shoes.
Easy opening with ventilation window inside.
Sturdy, durable, and built to last.
Made of water-resistant nylon material.

This Case4Life boot bag is the perfect solution for storing ski, walking or hiking boots. The Case4Life travel bag has a double zipper and ventilation system to help dry your boots after a day on the hill. Made from durable nylon with a webbed nylon handle for easy carrying. These boot bags are water resistant to keep your ski boots or walking boots protected. Featuring a ventilation panel and a robust carry handle this boot travel bag is great for storage, travel or around the home.
Sukoa Sports Large Capacity Ski Boot Bag Backpack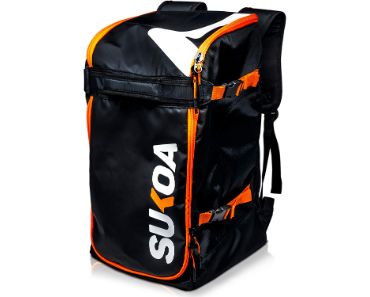 Special Features
Spacious large compartment with 50L of capacity.
Vertical ergonomic design with 3 separate compartments.
Double reinforced carry handle.
Sturdy weather-resistant zippers.

The Sukoa Sports large-capacity boot backpack is an easy way to tote your ski and snowboard boots to the resort. The backpack has a 50L capacity and offers a stylish and durable design that's big enough to handle both your ski and snowboard boots, helmet, gloves, goggles, and even your jacket. Made with high-quality materials to ensure durability and wear resistance that comes with an adjustable padded back panel for comfortable handling. Equipped with heavy-duty zippers to prevent jamming during winter trips.
Sklon Waterproof Winter Sports Backpack for Travel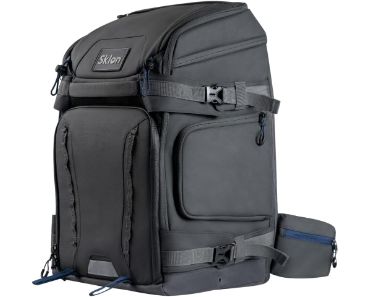 Special Features
The large 50L capacity is expandable to 60L.
Vented boot compartment.
Adjustable and adaptive straps.
Extra durable EVA back panel.
Enhanced utility pockets.

Keep your belongings dry and secure during your outdoor adventures. The Sklon waterproof ski and snowboard bag offers you a multitude of features to ensure you and your gear arrive safely and in one piece. The durable nylon protects against the elements and tears, making it ideal for winter sports, rain, and rugged terrain. Whether you are skiing, snowboarding or travelling, this backpack can fit all of your travel needs. It is very spacious and comes with multiple pockets for your convenience.
Outdoor Master Snowboard & Ski Boots Travel Bag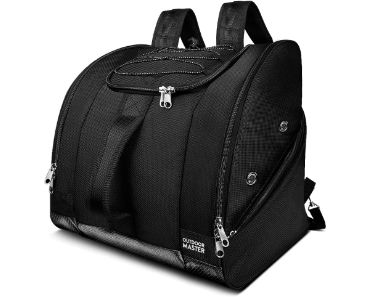 Special Features
Made of water-resistant nylon material.
Functional design with extra zippered pockets.
Adjustable shoulder straps for comfortable carry.
Ergonomic carry handle for easy carry.
50L storage capacity to store all the gears.

The Outdoor Master travel bag is the ideal gear bag for travelling with your ski & snowboard gear. The oversized storage area can accommodate all of your ski gear with ease, which is perfect for travelling. This high-end boot bag will hold your boots, helmet, goggles, gloves, clothes and all other snowboard accessories. The boot bag for cowboy boots design is made of sturdy, durable nylon with a water-resistant coating and non-slip waterproof bottom. The Outdoor Master snowboard & ski boot travel bag is the best choice for you and your family for travelling with a boot bag in any conditions.
PENGDA Waterproof Boot Travel Bag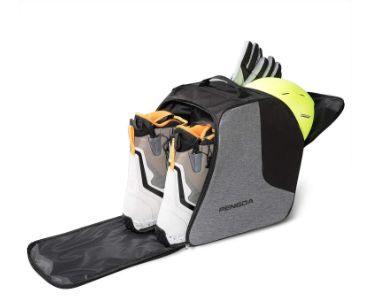 Special Features
Separate side-entry zippered boot compartment.
Ergonomic handle and breathable padded strap.
Made of durable 600D nylon material.
Compartments for other accessories.

PENGDA boot bag is the ultimate in ease of use, style and durability. Its design allows for ski and snowboard boots of all shapes and sizes to be packed comfortably, securely and safely. This bag's spacious main compartment with an interior zipper pocket keeps boots, helmet and gear snug and secure. The boot travel bag is made of 600D PVC-coated polyester, which is waterproof, super tough and anti-scratch. This ski boot bag is lightweight so it's not adding weight to your trek but feels sturdy enough to get the job done.
Carhartt Short Boot Bag for Travel and Storage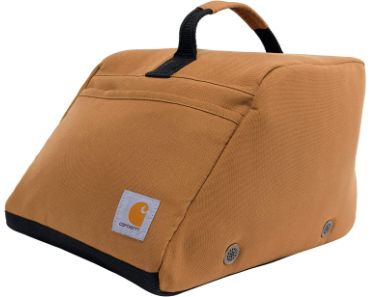 Special Features
Made of durable 600D polyester.
Rain defender durable water-repellent feature.
Large compartment to carry up to size 14 shoes.
Ventilation holes.
Padded carry handle.

Keep your favorite work shoes in the Carhartt short boot bag for travel and storage, and you'll never have to worry about tracking dirt and mud across the carpets at home or on the job again. Made from heavy-duty 600 denier polyester with a rain defender DWR finish to keep moisture out, this Carhartt boot bag features a large main compartment that holds up to a size 14 shoe. These boots travel bag also has an interior ventilation system to ensure that your boots dry while the bag is closed.
SHARKMOUTH Waterproof Travel Boot Backpack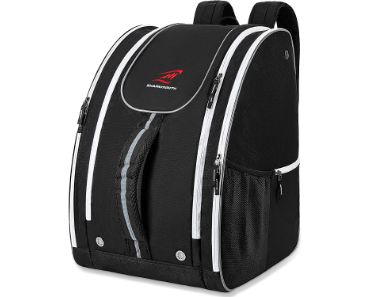 Special Features
65L of the large main compartment.
Made of waterproof polyester fabric.
Fresh air vent and thick pad handle.
Adjustable shoulder strap for comfortable carry.
Large compartment to carry up to size 14 shoes.

From extreme ski conditions to daily backpacking, our backpacks are durable enough to withstand all the elements while remaining stylish. The Sharkmouth ski bag is specially designed for ski enthusiasts. It is made with high-quality materials and is designed to be durable and functional. Extra-large capability is sufficient to keep boots, helmets, jackets, gloves, and other sports gear. The adaptable shoulder belts and chest belts allow you to carry and transport effortlessly. The stainless-steel vent windows in the boot chamber keep your gear dry.
Whether you're a frequent flyer or an occasional adventurer, having the right boot bag is essential for any journey. Not only do boot bags keep your shoes secure and organized, but they can also help you save money. If you're passionate about footwear and always looking for the perfect pair of boots to take on your travels, a boot bag is essential. From classic to modern styles, these bags offer protection for your adventures and style for your travels. Check them out and find the boot bag that's perfect for you!
Top 10 Best Needful CPAP Travel Bags as Your Travel Partner (worldtravelbag.com)