Are you someone who loves exploring new destinations, trying different outdoor activities, or going on adventurous trips? If so, you know the importance of having the right gear. But transporting all your equipment, from bulky items like tents and sleeping bags to fragile ones like cameras and electronics, can be challenging. That's where the Evoc Travel Bag comes in. This high-quality travel bag is designed to protect your gear and make your travels more accessible so that you can focus on the adventure ahead.
In this blog post, we'll explore why the Evoc Travel Bag is the perfect companion for your next trip and how it can make all the difference in packing, transporting, and enjoying your gear. Get ready to hit the road confidently, knowing your equipment is safe and secure with the Evoc Travel Bag.
What is EVOC Travel Bag Size?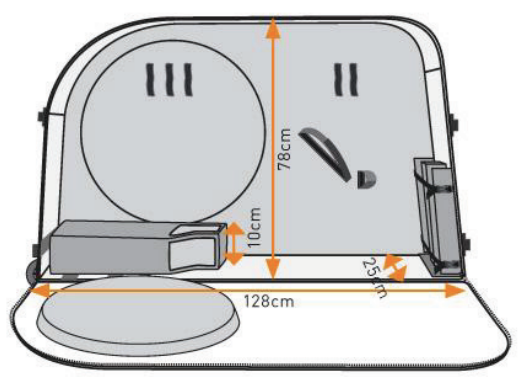 The size of the Evoc bag for travel bag varies depending on the specific model. Evoc offers several different travel bag options, including bags designed for mountain bikes, road bikes, snowboards, skis, and general outdoor gear. Each model has dimensions and capacity found on Evoc's website or the product packaging. For example, the Evoc bike travel bag measures 136x39x80 cm and has a capacity of 280 liters, while the Evoc snow gear roller bag measures 75x45x30 cm and has a capacity of 80 liters. It's essential to check the size and capacity of each model to ensure it will accommodate your specific gear needs.
EVOC Road Travel Bag Pro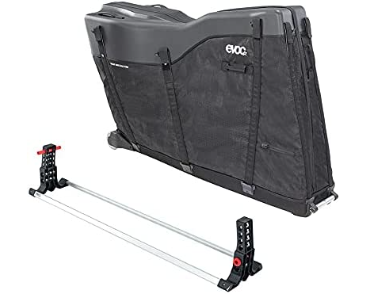 The EVOC road travel bag pro is a durable and secure travel bag for road and tri bikes. It features a polycarbonate hybrid area that protects the cockpit, and the bike can be attached to the rigid frame without needing to lower the saddle, with a maximum height of 86cm. The bag has two EVOC wheel bags to pack the wheels securely, and a clip-on front wheel for easy rolling through the airport. The exterior is made of P600D fabric to withstand rough handling, and the bag has TSA-approved locking zippers. The large skate-style wheels make the bag easy to roll and replace.
EVOC Bike Travel Bag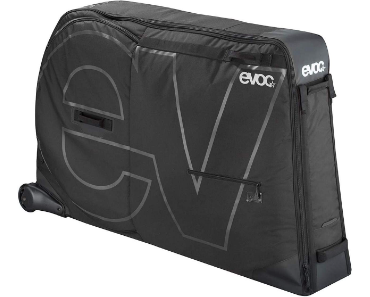 The EVOC bike travel bag is a versatile and durable solution for transporting bicycles. The bag fits most types of bikes and features two padded wheel compartments and intelligent reinforcing elements that protect fragile components. The bag has a reinforced fork mount, a collapsible design, and is made of heavy-duty nylon-ripstop with 10mm padding and abrasion-resistant panels. The smooth inline-skate wheels make the bag easy to roll, and the multiple handles make it easy to load and unload. The bag can be paired with a road bike adapter or bike stand to safely transport road and triathlon bikes.
EVOC 200L BMX Travel Bag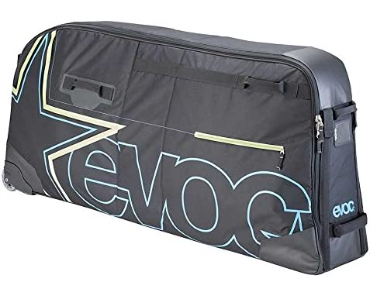 The EVOC 200L BMX travel bag is a compact, well-padded travel case that is designed to keep your BMX racing bike safe during travel. It has a durable P600D exterior and a separate wheel compartment, providing extra protection for your bike and gear. With its easy packing, it can fit your bike and any racing gear with ease. The bag features large skate-style wheels that make rolling the bag effortlessly, and the bag is exceptionally light and compact, making it convenient to travel with your bike.
EVOC 280L Bike Travel Bag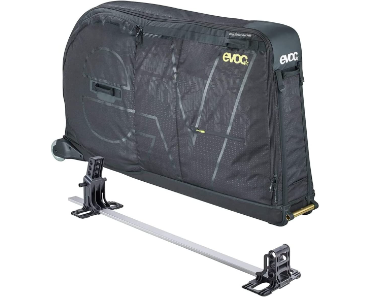 The EVOC bike travel bag pro is a high-end solution for transporting almost any type of bike. The bag offers optimized protection for fragile bike components with intelligent reinforcing elements such as polycarbonate covers, aluminum slide rails, molded EVA shell cases, PE boards, rods, and foam padding. The bag features separate wheel compartments with disc protection, a reinforced fork mount, and a collapsible design. It is made of heavy-duty PU-coated nylon ripstop and woven PE fabric, making it lightweight, tear-resistant, and water-repellent.
EVOC Bike Travel Bag Pro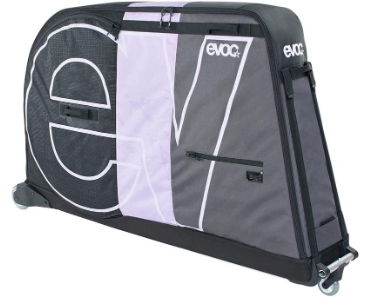 The EVOC bike travel bag pro is an upgraded version of the original bike travel bags. With a larger design, the bag accommodates various types and sizes of bikes, including those with 29" wheels. It includes a frame pad to protect the bike frame, as well as exterior pockets with specific protection for disc brake rotors. The bag has a 305L storage capacity, allowing for all bike gear and clothing to be packed. The bag is made with durable 600 Denier fabric. The bag has TSA-approved locking zippers, and replaceable skate-style wheels make it easy to transport through airports.
EVOC Bike Travel Bag XL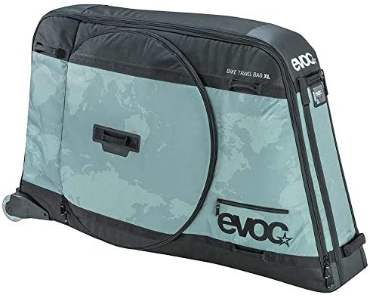 The EVOC bike travel bag XL is a hybrid bike transport case that combines the best of a hard-shell case and a soft bag, making it easy to use and protective. It can fit various types of bikes, from plus and fat bikes to road and triathlon bikes. The bag features intelligent reinforcing elements and padding to protect the bike's fragile areas during transport. It includes a bike stand, clip-on wheel 2.0, a frame pad, and multiple carrying handles for easy transportation. The bag has a capacity of 285 liters and two-wheel compartments, while the stabilizer rods and reinforced fork mount offer additional protection.
In conclusion, the Evoc travel bag is a game-changer for adventure travelers, providing reliable protection for your gear and making transportation more manageable and efficient. With its durable construction, ample storage space, and innovative features like its detachable wheelbase, the Evoc travel bag is the perfect travel companion for anyone exploring the great outdoors. So, whether you're planning a weekend camping trip, a multi-day hike, or a far-flung adventure, pack your gear in an Evoc travel bag. With this trusted travel bag by your side, you can focus on the excitement of your journey ahead, knowing that your equipment is safe and secure. Start planning your next adventure today, and take the first step with the Evoc travel bag.
7 Best Samsonite Golf Travel Bag: Must-Have for Avid Golfer (worldtravelbag.com)