If you're a golfer, then you know that touring with your clubs can be an annoyance. That's why it's important to invest in a good golf travel bag. Not only will it protect your clubs, but it will also make packing and transporting them much easier. So, if you're in the market for a new golf travel bag, here are some of the best options available.
If you're a golf enthusiast, then you know that the game can take you all over the world. And while that's part of the appeal, it can also be a bit of a hassle to lug your clubs around with you. That's where the best golf travel bags come in. These bags are specifically designed to make traveling with your clubs easy and convenient.
They come in a variety of styles and designs, so you're sure to find one that meets your needs. And because they're made with high-quality materials, you can rest assured that your clubs will be safe and secure while you're on the go. So if you're looking for an easy way to travel with your clubs, be sure to check out the best golf travel bags on the market. You won't be disappointed.
What Are The Facts to Look For in The Best Golf Travel Bag?
There are lots of facts that come to mind when it comes to buying the best Golf Travel Bag for traveling on a golf trip. As the best golf travel bags are so pricey so you have to be careful about the facts discussed below.
Durability – Durability is the major concern for a golf travel bag. While most travel bag offers an average quality but golf bags need to be enough sturdy and durable. Choose a travel bag that is durable and provides longevity while you're traveling on a golf tour with your friends.
Materials – The material used to manufacture the bag is really important as durability, longevity, and comfy depend on the material. Generally, the best golf travel bags are made of Nylon or Polyester.
The different types of polyester out there such as 100% polyester, 600D polyester, 900D polyester, and 1200D polyester. For nylon, there are ballistic nylon, water-resistant nylon, and 100% plain nylon out there. So, choose the best material according to your preference while buying a golf travel bag.
Size – The size of the golf bags for travel usually comes with a big size as they need to be carrying golf sticks that are big enough. The average size of a golf stick is around 48 inches so the bag size needed to be a height of at least 50 inches. Don't go for a bigger size than 50 inches otherwise, you'll face troubles while carrying.
Weight – Weight is another crucial part to look for in a golf travel bag as it needs to be carried. A balanced weight of a travel bag is important so that you can enjoy a painless and enjoyable trip. However, the ideal weight of a golf travel bag should be around 6-9 lbs which are good for traveling with your clubs.
Type of Case – When it comes to choosing the case there are two options out there a hard case and a soft case. The type of case you prefer, you need to go for it. Yet, we found soft cases are more comfortable and easy to carry than hard cases. On the other hand, a hard case consumes lots of space but gives ultimate protection to your clubs.
Padding – Padding is also important to protect your clubs, especially the sticks. Padding gives protection to your sticks while traveling on a golf trip. So, make sure to have enough padding inside the bag while purchasing a golf travel bag.
Wheels & Maneuverability – You can't always carry your bags on your shoulder or hands so you need an alternative carrying system. A wheel system can ease the carrying experience differently and it's important for golf travel bags. It's not enough to have only wheels but you also need maneuverability to rotate it around 260 degrees which creates an effortless carrying.
Storage – When it comes to travel bags, storage is the main concern as all of us need a spacious compartment to take all of the essentials. The spacious main compartment is always better to form everything you need while traveling on a golf trip. All of your clubs and personal essentials have to be fitted well inside the bag including the golf shoe. Keep in mind that, never pick a bag that is large but heavyweight so that you don't have to take hassle while carrying it.
External Compartments – Compartments are important to keep the essentials organized and any kind of travel bag must need some compartments on the bag. External pockets are essential when it comes to being the best golf travel bag. A golf travel bag is always something like that you can't keep or take something from inside the bag.
So the bag needs to have outside pockets so that you can take and keep your essentials like wallet, passport, cell phone, power bank, key ring, and so on effortlessly and easily.
Protection System – As you'll travel with a bag and lots of important stuff you'll be needed a strong security and protection system. You'll find the zippers where you can lock the bag and the good quality materials tend to give extra protection. However, the hard case golf bags are more secure and reliable for high protection of your stuff.
Warranty – As you're paying a handsome amount of money to have a travel golf bag then you also should be honored by having a good after-sales service or warranty. Most of the companies are providing at least 2 years of free servicing and a maximum of 5 to 7 years of warranty onward. The better the warranty policy, the less hassle you'll get so be aware of the warranty policy.
Finding a proper golf travel bag might be difficult for you but not with us. We are here to provide all kinds of assistance to you. Here, we're provided the list of the 7 best travel golf bags you should know about and have your favorite one for the next golf trip.
Partage Wheeled Golf Travel Bag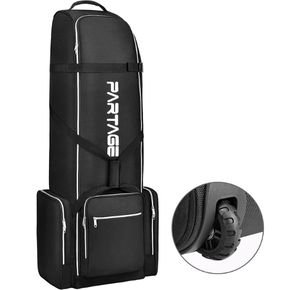 Partage Wheeled Golf Travel Bag is one of the cheapest but most popular golf travel bags that a bag manufacturer can offer for under $100. This bag is made of polyester and the dimension of this bag is 51 x 18 x 12.5 inches which are suitable for any kind of golf accessories. The bag comes with multiple protection systems to protect your clubs and the bag is much more durable. The wheels are smooth enough and there is also a long strap that is detachable.
Reasons to Buy :
Premium quality 600D polyester material.
Padded protection to protect the clubs while traveling.
Universal travel bag size that is suitable for any kind of club.
The wheels are smooth enough.
Inclusion of a detachable strap.
Reasons to Avoid :
The zipper quality might not be satisfactory.
Only one year warranty. Should have at least two years.
Himal Outdoors Soft-Sided Heavy Duty Golf Travel Bag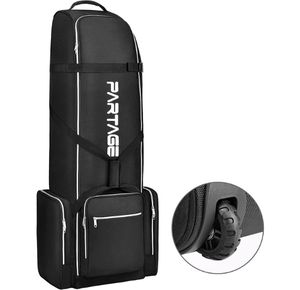 Himal Outdoors is famous for producing cheaper travel bags since its birth. Himal is producing lots of golf travel bags but this bag is arguably one of the best within the range of $50. This bag is made of 600D oxford water-resistant polyester which gives a premium feel while used. The bag comes in a universal size with a dimension of 15 x 13 x 50 inches and a weight of around 4 pounds. This soft-sided golf travel bag is suitable for any kind of golf trip with friends and family.
Reasons to Buy :
Made of 600D heavy-duty polyester material.
Universal size that is suitable for daily life.
Cushion-filled soft handle for effortless carrying.
Water-resistant facility.
Smooth zipper experience.
Cheaper in price.
Outdoor Master Padded Heavy-Duty Golf Club Travel Bag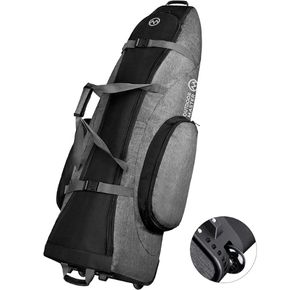 This heavy-duty travel bag from Outdoor Master is another monster within a budget under $100. This bag is made of rubber and oxford material which have a water resistant feature.
The wheels of this bag are highly sturdy and smooth which gives a fantastic carrying experience. The bag is comparatively bigger by 3 inches which gives extra space inside the bag to fit the golf sticks nicely. The extra padded layer provides ultimate protection to the clubs from collision while traveling.
Reasons to Buy :
Made of 900D heavy-duty oxford material.
Extra padded layers for protection.
The wheels are tough and smooth enough.
Multiple ways of carrying.
Different compartments for golf shoes.
Fold-able and easy to use.
Samsonite Hard-Side Golf Travel Bag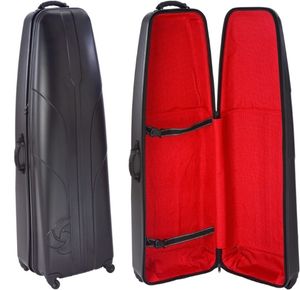 Hard-side bags are essential for protecting your golf clubs. Samsonite is one of the most renowned and reliable bag manufacturers in the world. The bag is made of high-quality ABS plastic that gives a sturdy hard case bag experience.
This bag offers 360-degree rotatable multi-directional wheels for a better rolling experience. The outer shell of the bag is hard but the interior of the bag is soft that covered by padded layers to protect the clubs from damage. The height of the bag is 56 inches long which is suitable for any size of golf stick inside the bag.
Reasons to Buy :
Made from solid ABS plastic.
Durable and lightweight.
360-degree rotatable 4 spinning wheels.
Longer in height at 56 inches of length.
Extra layers of padded protection inside the bag.
Reasons to Avoid :
The plastic handle might be broken on heavy loads.
Sun Mountain Club Glider Golf Travel Bag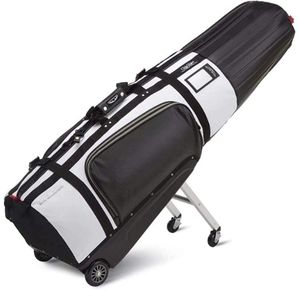 Sun Mountain provides premium quality golf travel bags for decades with a reputation. This travel bag from Sun Mountain is a premium segment bag that offers a premium quality bag. The bag is of vinyl with a dimension of  52 x 14 x 14 inches and a weight of around 13 pounds. There is a stand and wheels on the stand attached to the bag that helps to stabilize the package. The bag is highly safe and secured with approval from TSA. For any kind of golf trip, this bag can help you to enjoy the trip.
Reasons to Buy :
Made of premium quality vinyl material.
Lock included which is TSA approved.
Safe and secure with padded layers.
Smooth and easy wheels to experience smooth rolling.
Additional stand in the middle for keeping the bag stable.
Reasons to Avoid :
It may seem a bit pricey.
Founders Club Hard Shell Top Travel Bag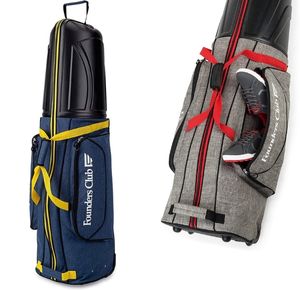 Founders Club is one of the leading golf bag manufacturers and this bag from Founders Club is really fantastic. The bag is made of Polyester along with Acrylonitrile Butadiene Styrene at the bottom half.
The upper part of the bag is made of ABS plastic which is sturdy and durable. The dimension of the bag is dimension is 52 x 15 x 13 inches and the weight of the bag is around 2.8 kg. The handle is comfortable and is made with 3 layers of padded cushions and there is a compressed strap attached there which is detachable. For any kind of traveling to a golf court, this bag surely helps you to get what you want.
Reasons to Buy :
Made of hard ABS plastic on the top side.
600D polyester provides durability and longevity.
Inline stake wheels for rolling smooth.
Dedicated large shoe compartment.
Lockable zipper with compressed strap.
Reasons to Avoid :
No TSA lock is available.
Only one year of warranty!
Caddy Daddy Constrictor 2 Padded Golf Travel Bag Cover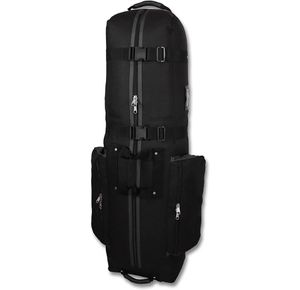 This constrictor 2 golf travel bag from Caddy Daddy is one of the finest travel bags around the corner. The bag is made of a combination of rubber and nylon which is 1800D fabric, 3x sturdy, and thicker than regular 600D fabric. This bag is designed to protect all of your golf clubs while traveling as there's a chance of damaging the clubs from collisions.
The heavily padded layers are 3x sturdy and more durable than a regular one. The rubber and nylon handle gives an easy and painless carrying experience that you'll love surely. There's an equipped inline wheel that makes the rolling smoother. As the bag is a soft case travel bag this can be used easily and can be folded while it's not used.
Reasons to Buy :
A highly rated protection system to protect the clubs.
The bag is constructed heavily padded with a 3x layer of 600D fabric.
The handles are soft and painless and offer travel with no hassle.
In-line skates and sturdy wheels to experience smooth rolling.
Spacious main compartment and lockable zippers.
Reasons to Avoid :
As a soft bag, not that durable to protect the clubs.
FAQs About The Best Golf Travel Bag
How much should I spend on a golf travel bag?
Spending on a travel golf bag depends on the quality and features it offers. Golf is an expensive sport and the equipment for golf is expensive too. To protect the clubs you'll be needed a high-quality bag and the price of a high-quality bag is supposed to be also high. For a budget pick, you should spend around $100 to $150 and for a moderate pick, you have to spend between $150 to $250. Moreover, a premium quality golf travel bag may cost you more than $300 to $100.
Can I fly with my clubs in a travel golf bag?
Yes, obviously. Your clubs and travel golf bag are eligible to fly as every airline accepts to take the travel golf bag. If you want additional bag safety then you may take paid carrying service and it will cost between $30 to $50 which varies from airline to airline. However, some airlines also offer insurance for golf travel bags and the policy is the same as other luggage.
Hard case or soft case? Which one is better?
For carrying easy and effortless, the soft case is always better. The soft case is fold-able and it consumes less space while traveling. On the other hand, the hard case takes up more space but it gives protection to your clubs, especially the golf sticks.
Final Thoughts
If you're a golf lover, then you acknowledge that the sport will take you everywhere in the world. It's necessary to take a position in a very smart golf travel bag as a result of not solely will it defend your clubs, however, it'll conjointly create packing and transporting them abundantly easier. So, if you're within the marketplace for a brand new golf travel bag, here we tend to mention and created a listing of the most effective choices obtainable for you.