Hockey sticks are an essential part of a player's equipment, but they can be difficult to transport, especially for players who are always on the go. Traveling with a hockey stick can be a challenge, as they are long and often get damaged during transit. To ensure that your hockey stick stays protected and secure during travel, a hockey stick travel bag is a must-have accessory. With a hockey stick travel bag, you can be confident that your stick will arrive at your destination in the same condition as when you packed it.
In this article, we've rounded up the top 7 hockey stick travel bags that are designed to make it easy to take your stick with you wherever you go. From bags with multiple compartments to those with adjustable straps, these hockey stick bags will help you keep your stick in top condition while you're on the road.
Athletico Hockey Large Duffel Travel Bag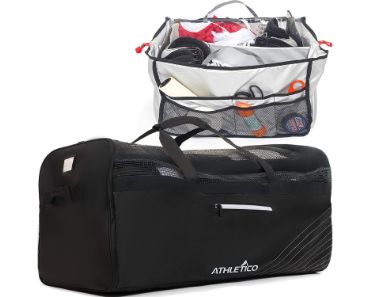 The Athletico hockey equipment duffle bag is a large, versatile bag that makes it easy to carry and organize your hockey gear. It features multiple exterior pockets, and a skate/gear organizer caddy, and is made from durable, rip-resistant materials. The bag is also waterproof and has a PVC-coated mesh vent top for maximum airflow. It has neoprene-wrapped comfort handles and straps for easy carrying, as well as an ID card slot for easy identification during travel. With its exclusive design and convenient features, the Athletico duffle bag is a great choice for hockey players looking for a convenient and functional travel bag.
TronX Stryker Carry Hockey Equipment Bag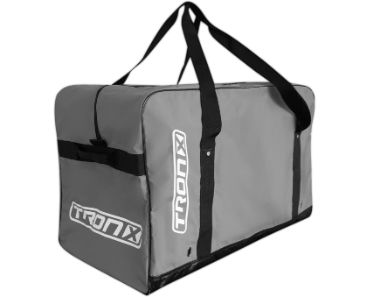 The TronX Pro carry hockey bag is a durable and water-resistant bag designed for hockey players. It features a spacious main compartment with a straight zipper opening to store all of your equipment. The bag also includes a mesh pocket on each end panel to store and separate your skates and other items, as well as air grommets for ventilation. The carry straps are reinforced with rivets for added durability and there is a player ID window on the top. The TronX bag is a great choice for players looking for a reliable and functional bag to carry their gear.
STX Field Passport Hockey Stick Travel Bag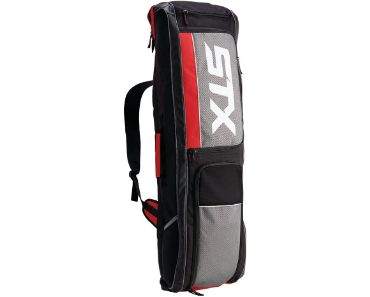 The STX Field passport hockey stick travel case is a high-quality bag designed for hockey players. Made of 100% polyester and heavy-duty, water-resistant 600D material, this bag is durable and built to last. It features a padded backpack system for comfortable carrying and an externally accessed stick compartment that can hold 4 or more sticks. The bag also includes two large internal compartments for all of your gear, one of which is ventilated for breathability. Additionally, there is a water bottle pocket, a side stash pocket, and a fleece-lined pocket to protect valuables.
Reebok HTFX Hockey Wheeled Equipment Bag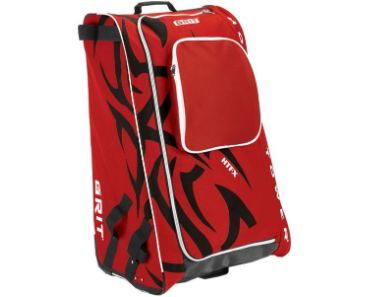 The Reebok HTFX hockey wheeled equipment bag is a high-quality and versatile bag designed for hockey players. It features the Torsion technology folding frame design, a side panel shoulder belt, and a BladePort that carries player sticks. The bag also includes a gear shelf, foot rug, mesh door accessory sacks, and a removable wet/dry mesh pouch. The bag is also customizable, as it has a removable pocket for a team logo. The Reebok HTFX hockey bag is a great choice for players who need a durable and functional bag to carry their gear to and from games and practices.
CCM Wheeled Travel Hockey Stick Bag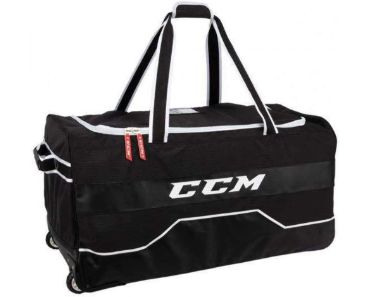 The CCM 370 player basic wheeled bag is a lightweight and durable hockey equipment bag designed for easy transportation. The bag is made of a combination of 600D polyester and 420D honeycomb ripstop polyester for durability. It features two 4″ all-terrain wheels and reinforced grab handles for easy handling, as well as two webbed carry straps for over-the-shoulder carrying. The bag's U-shaped opening panel has a large mesh laundry pocket for storage, and the exterior has a player ID window.
Franklin Sports NHL Ice Hockey Stick Bag for Air Travel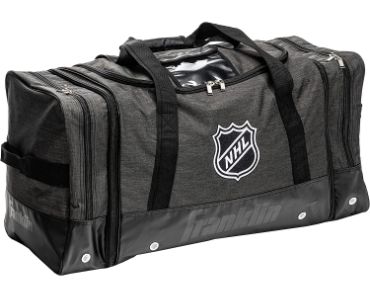 Franklin Sports NHL ice hockey stick bag is a premium heavy-duty bag that features numerous storage chambers, a watertight base, a trip ID, drying vent holes, toughened handles, and reliable zippers. The bag is designed with an easy-access U-shape opening and has inner and dual zippered back storage compartments for all your gear. It also comes with an official NHL logo and is an officially licensed product of the NHL. The bag has a size of 39″ x 14″ x 15″, with the ability to expand an additional 10″ in length for younger players who will grow in and out of equipment.
TronX Stryker Wheeled Travel Bag for Hockey Sticks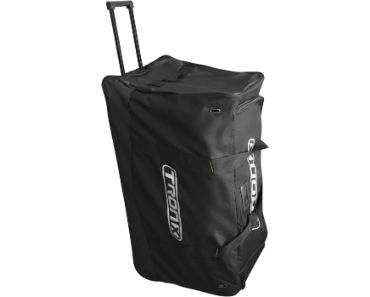 The TronX core wheeled bag is a durable and affordable option for ice or roller hockey players. It has a strong exterior made of 600D polyester and PVC, with a plastic base and telescopic handle for easy maneuvering on all surfaces. The main compartment is spacious and air grommets on two sides provide ventilation. It can fit senior and junior-sized equipment and includes two nylon grab handles and carries straps for easy transportation.
In conclusion, having a reliable hockey stick travel bag is essential for players who are always on the go. With so many options available, it's easy to find a bag that fits your specific needs and style. Whether you're looking for a bag with multiple compartments, adjustable straps, or extra padding, there's a hockey stick travel bag out there for you. By investing in one of the top 7 travel bag for hockey sticks we've recommended, you can be confident that your hockey stick will stay protected and secure during transit, so you can focus on your game when you arrive at your destination.
7 Best Golf Travel Bag – Facts & Buying Guides (worldtravelbag.com)