Sneaker Travel Bag: When it comes to traveling, especially with multiple pairs of sneakers, finding the right bag that not only provides ample protection but also keeps your kicks organized can be quite a challenge. That's why we've done the research and compiled a list of the top-notch sneaker bag for travel that is currently dominating the market.
In this post, we'll dive into the features that make these bags stand out from the rest, ensuring your sneakers remain in pristine condition no matter where your adventures take you. From innovative designs to durable materials, we'll explore why these bags have become a must-have accessory for sneakerheads and frequent travelers alike.
Whether you're planning a weekend getaway or a globetrotting adventure, having the right sneaker travel bag can make all the difference. Say goodbye to stuffing your sneakers haphazardly into your luggage or worrying about accidental damage. With our hand-picked selection, you'll have peace of mind knowing that your kicks are protected and ready to make a statement wherever you step foot with the best sneaker bags for travel.
IZEALPRO Waterproof Sneaker Bag For Travel
This waterproof and high-quality sneaker travel bag is made from lightweight nylon fabric, ensuring durability and a smooth feel. The bag features additional storage pockets, a ventilation hole, and an easy-to-clean lining that is anti-dust and waterproof. While it is waterproof, it should not be soaked in water. The smooth zipper is of good quality, ensuring durability and easy access. Its simple, lightweight design makes it a convenient on-the-go option for storing and carrying shoes and sneakers.
KXKS Premium Travel Duffle Sneaker Bag
This premium duffle bag for men is the ultimate travel companion for sneakerheads that provides protection for your precious sneakers. With 3 robust Velcro dividers, it keeps your shoes organized and secure. This non-staining sneaker travel bag won't bleed or leave marks on your expensive sneakers. Designed for convenience, it has a 15″ laptop compartment, adjustable shoulder strap, and is TSA carry-on approved. Travel with comfort and style, knowing your favorite shoes are safe in this reliable and versatile travel bag.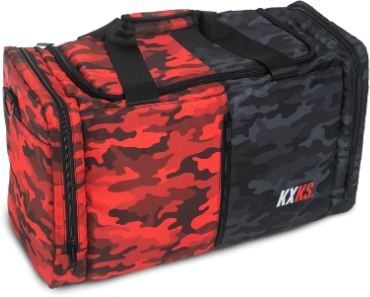 Krone Kalpasmos Multi-functional Sneaker Bag
This sneaker travel bag is crafted from high-quality and durable nylon material, ensuring long-lasting use with a smooth and wear-resistant surface. The sturdy zippers and metal hooks can handle heavy loads, meeting your high-strength requirements. This bag is designed to resist rain and daily splashes, this bag protects your shoes from getting wet or damaged. This versatile bag is ideal for travel, outdoor activities, and sports, and can be carried as a handbag or crossbody bag.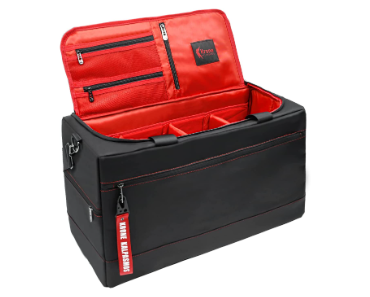 Case4Life Sneaker Duffle Bag for Travel
This multipurpose duffle bag is suitable for everyone and can accommodate various types of shoes, including sneakers, football boots, and golf shoes. It can also be used as a compact gym bag, perfect for quick grabs and fitting into lockers. The water-resistant nylon exterior makes it ideal for gym, sports, or outdoor activities, ensuring the contents stay dry. With a double zip for easy opening and a hook and loop flap for added security, this bag is great for travel or sports. It provides protection and containment for your shoes and prevents dirt from spreading.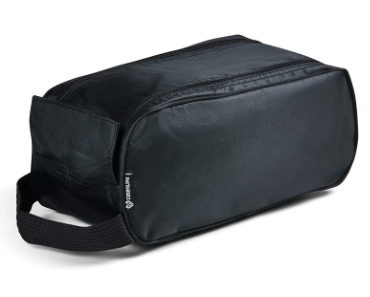 Sole Premise Multi-functional Sneaker Backpack
This Sole Premise travel bag is specifically designed to carry up to 5 pairs of shoes while also accommodating other travel essentials. The unique design of this bag includes shoe compartments that prioritize maintaining the shoes' design and structure, preventing creasing or bending. These compartments can hold shoes up to size 13. Additionally, this sneaker travel luggage features a dedicated compartment for a laptop up to 17 inches and pockets for other essential travel items.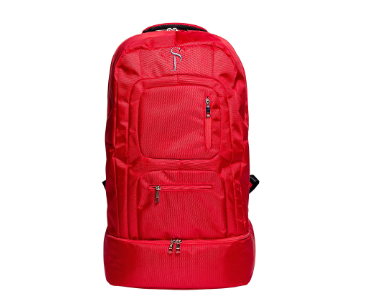 GOTO Sports Travel Bag With Shoe Compartment
This durable and waterproof sneaker travel bag from Goto is designed with adjustable dividers to suit your needs. The sneaker carrying bag is made of waterproof Oxford fabric and can comfortably accommodate at least one pair of size 11 sneakers and other sport gears. This multifunctional bag is suitable for various activities such as the gym, travel, picnics, and sports, with pockets for storing essentials. It can be carried as a single-shoulder bag, messenger bag, or handbag, offering versatility for convenience.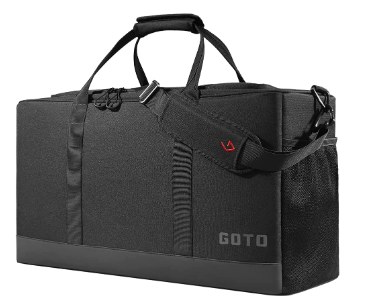 Emissary Waterproof Shoe Bags for Travel
This Emissary large shoe bag offers a spacious capacity of accommodating shoes up to size 14 and protecting various types such as leather, dance, golf, and more. With 3 layers of shoe organizing, it can hold up to 3 pairs of shoes. This bag is good for keeping them separate from clothes and in excellent condition during travel. Crafted from high-quality rip-stop polyester fabric, the bag is durable, waterproof, and features smooth two-way zippers. Its versatile design allows for catering to various travel needs and provides convenient storage for different items.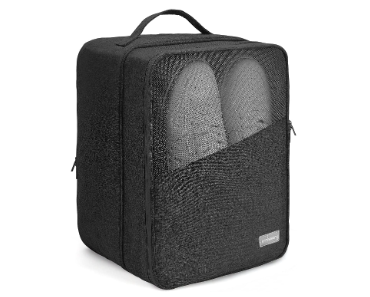 KXKS Sneaker Bag with Adjustable Compartment
This durable duffle bag for sneakers is designed to protect your favorite kicks during transportation, preventing dirt and damage. With spacious compartments, it can hold up to 2 pairs of shoes individually or 4 pairs in sets, with adjustable dividers to accommodate different sizes. The bag keeps your shoes separate from clothes, maintaining cleanliness and freshness. It serves as a versatile shoe bag for both men and women, ideal for sneaker collectors and gym-goers.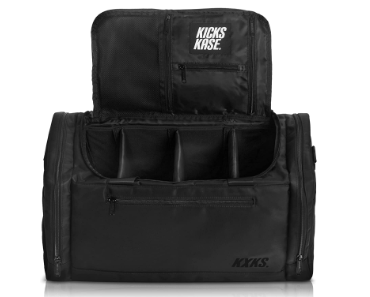 Krone Kalpasmos Sneaker Bag for Travel
This sneaker travel bag is crafted from high-quality and durable nylon, ensuring a smooth and wear-resistant surface. It features sturdy zippers and metal hooks capable of withstanding high-strength loading. With its rain-resistant design, this bag protects your valuable shoes from water damage. The spacious interior can accommodate up to 4 pairs of sneakers up to size 12, while additional pockets store essentials like passports, cell phones, and laptops. Its lightweight and breathable construction, along with comfortable handles and an adjustable strap, make it perfect for sports, travel, and everyday use.

Pack All Water Resistant Travel Shoe Pouch with Zipper
This shoe bag is crafted from a superb Polyester and TPU composite mesh material. This bag offers water resistance to protect your belongings from water splashes. It can accommodate shoes up to size 11 catering to both men and women. The sturdy drawstring design ensures easy portability, while the customized zipper securely stores your items. This bag effectively keeps your shoes dust-free and separates them from other clothing, preserving their cleanliness.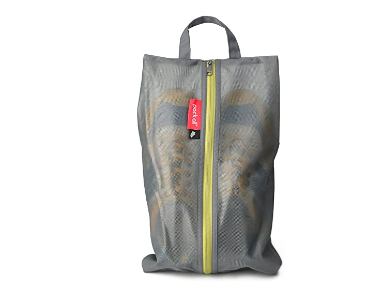 In conclusion, investing in the best sneaker travel bag on the market is a game-changer for sneaker enthusiasts and frequent travelers alike. The right bag provides not only exceptional protection for your beloved kicks but also offers convenience and organization during your journeys. With our carefully curated selection of top-notch sneaker bag travel, you can now travel with confidence, knowing that your sneakers are shielded from scuffs, scratches, and other potential damage. Say goodbye to the days of cramming your sneakers into random bags or worrying about their condition.
last Line: Embrace the peace of mind and style that come with the perfect sneaker bags for travel, and embark on your adventures with your kicks protected and ready to turn heads wherever you go.