Fall is here, meaning Halloween is right around the corner, and if you have a little one, it's time to start stocking up on accessories for the spookiest night of the year. If you usually go for the same old costume each year, or you're just tired of wearing the same thing as everyone else, why not try something different this year? And when it comes to celebrating this spooky holiday, you can't forget the accessories. After all, a costume is only as good as its accessories.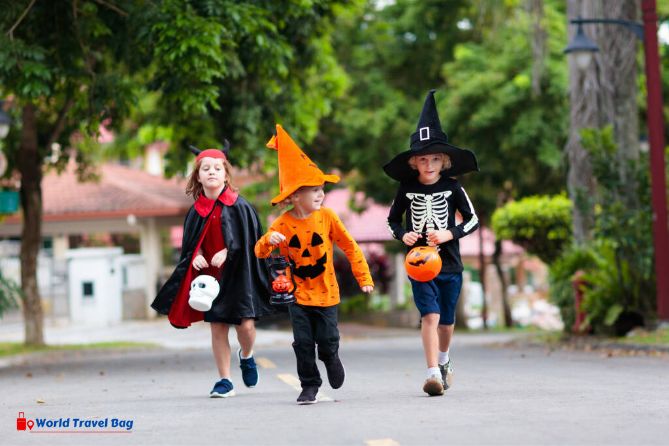 If you're looking for a one-of-a-kind crossbody bag that will make you the talk of the town, this article is for you. We are excited to show you our latest collection of Halloween-inspired crossbody bags to help you get into the holiday spirit. With 15 styles to choose from, there will surely be something for everyone.
Why Do You Need a Halloween Crossbody Bag?
A crossbody bag is a perfect accessory if you want to add some spook factor to your Halloween costume. Not only do they add style and personality, but they can also be used as storage or carry-on options when traveling. A good crossbody bag will help you organize your clothes and accessories, making it easier to find what you're looking for. Other than that, a Halloween-featured crossbody bag is necessary when you like to match everything according to your Halloween costume. A crossbody bag with a Halloween design is the perfect accessory to color the Halloween party along with the Halloween costume.
Skull Print Crossbody Travel Bag for Women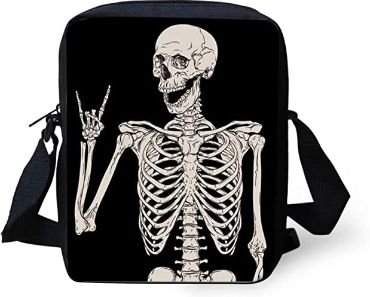 The Skull print crossbody bag is a versatile and practical backpack you can carry without worrying about wear. The bag is made of 300D polyester material, which is durable and solid, making it perfect for both professional use and everyday carry. Additionally, the bag is spacious and lightweight, making it ideal for carrying large items around. The pack also features a high storage capacity thanks to its several compartments and zippered pockets. This crossbody daypack is perfectly made to color your Halloween festival.
Pumpkin Crossbody Novelty Devil Shoulder Bag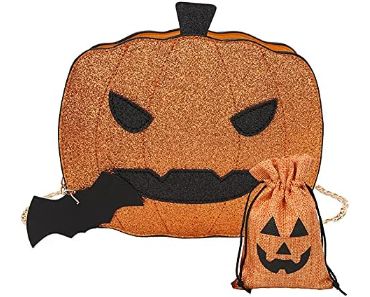 The pumpkin-style crossbody bag is perfect for girls to take to parties or dates. The versatile bag has a stylish and unique design, making it the ideal accessory for any autumn-inspired outfit. With a clever mix of fun and functional features, this bag will keep you organized and well-equipped for all your Halloween fun. It features an intelligent design that's perfect for making an impression. The colorful fabric is made with fine artistry and is an excellent accessory for any girl.
Novelty Bat Tote Shoulder Bag for Halloween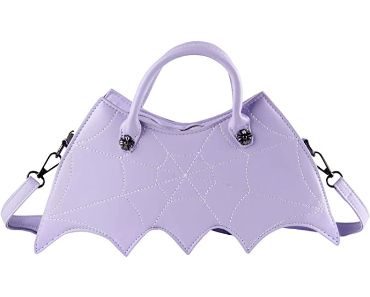 This Little Devil Batwing Suit is perfect for any event like Halloween. It's unique, unforgettable, and a great addition to any party or date. Plus, it's made with durable PU leather, so you can be sure it'll last long. Black PU leather with polyester lining makes this batwing-style vampire-style little devil the perfect accessory for any Halloween party or date. With its punk-inspired design, this unique and beautiful piece will add some spookiness to your look. This Halloween's little devil, cute and unique design, particular and handsome little devil, get this in your purse now.
Unisex Halloween Crossbody Chest Bags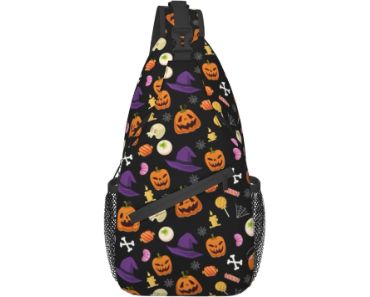 This stylish Halloween Pumpkin sling bag is perfect for everyday use! It's made of lightweight, durable and unique printed polyester fabric. Plus, it's great for outdoor sports and daily use, and you can carry it on your shoulder as a shoulder bag, cross-body, or chest bag, and you can put it on your back. The pumpkin pattern on the bag will make your costume look even more impressive. So get your pumpkin on – this bag has everything you need to take your style up a notch.
The Raven Book Novelty Crossbody Bag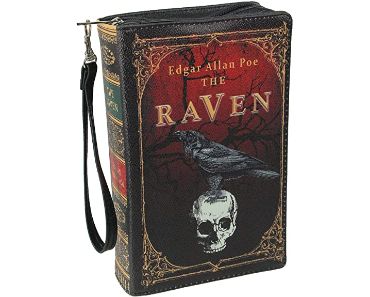 Overwhelmed by the number of toiletries you pack with you on your Halloween? The Gilded Gothic Bag is perfect for anyone who wants to show off their dark side. The bag is made from black vinyl for a faux leather lo; it looks like a leather-bound copy of Poe's classic tale and will delight Poe fans and anyone who just wants to proclaim their gothic fashion sense. The main pouch is sealed with a zipper and divided into two sections by an interior zip-up coin pouch. It fits any amount of belongings and makes a statement in any setting. The bag can hold a lot, making it the perfect piece for any Halloween costume.
Adjustable Strap Crossbody Bag for Halloween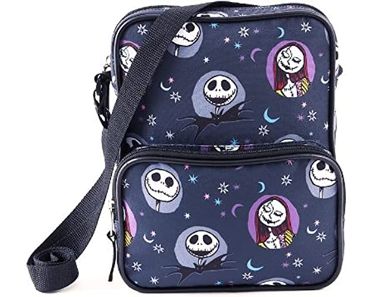 The Nightmare Before Christmas and Halloween festivals are the perfect time to bring your storage needs together with this! The bag is made of a durable poly-woven material that can handle both events. An adjustable strap is perfect for any clothing or accessory you may need. Plus, one open pocket inside and one zip pocket on the backside. Whether you're celebrating your favorite holiday or just looking for a small storage solution, this bag has you covered.
Animals Face Halloween Crossbody Shoulder Bag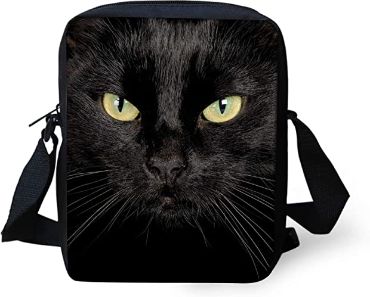 This Halloween bag is the perfect way to get into the spirit. The multi-function design and comfortable shoulder strap make it an ideal choice for any occasion. The practical design of this Halloween bag will help you feel more confident that you're wearing the correct attire for your party. The cross-body strap and body pocket allow you to wear it as a shoulder bag or even across your chest, while the front zip closure helps to keep items secure. Whether dressing up or feeling extra cozy, this bag is perfect for any Halloween occasion.
Cat Spirit Halloween Crossbody Bag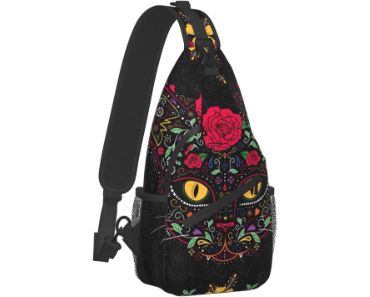 This cute cat backpack is an excellent gift for any occasion, like Halloween. No matter who you give it to, they will love the attractive cat design. It is made of quality polyester and has built-in accessories with Velcro for additional storage. There is a main zipper pocket, an open pocket, a hidden zipper pocket, an open mesh pocket, and two open mesh bags. The perfect ergonomic design does not add too much burden to the body, which is suitable for everyone to carry.
Crossbody Shoulder Chest Bag for Travel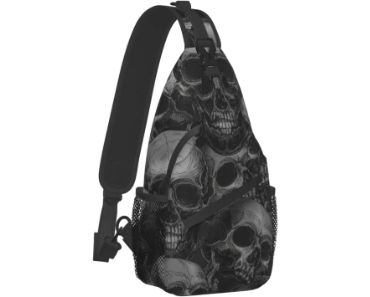 Designed for travel, the Crossbody Shoulder Chest Bag is spacious and comfortable. It is designed to hold all of your belongings comfortably and safely. This crossbody shoulder and chest bag is big enough for cell phones, wallets, sunglasses, and more. This sling bag is made of strong polyester that will resist rips and tears and is easy to clean. The sling bag can be folded away or kept in a small compact bag for traveling.
Crossbody Animal Purse Clutch Bags for Halloween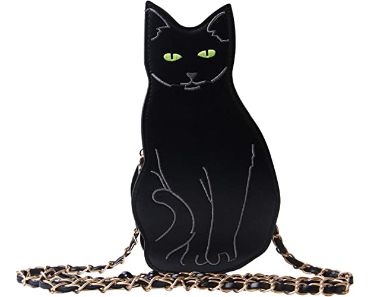 This bag is made of high-quality PU leather and has a sturdy magnetic button. The size is perfect for a shoulder bag or a cross-body bag. The strap is adjustable and can be attached to any desired length. It comes in a couple of different colors. It is also great for Halloween or a day of the dead theme party. It has two rings on the strap to fit a cross-body strap, an adjustable shoulder strap, and two zippered pockets. It also has an interior pouch with a snap closure.
Poisoned Apple Halloween Crossbody Purse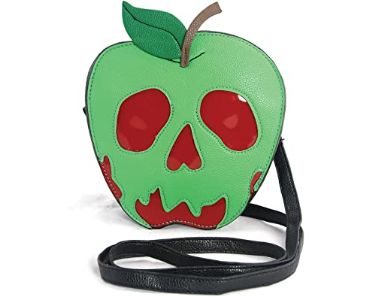 Most people's purses are just not as attractive as they could be. They might be functional, but they lack the wow factor. It's made with quality vinyl and has a fabric-lined interior for extra comfort. With this unique, fashion-forward purse, you get a perfect mix of function and fashion. It has a stylish fabric-lined interior, perfect for taking a collection of clothes to work or at the market. The exterior slip pocket is also great for holding your phone or other large items.
Horror Characters Halloween Crossbody Bags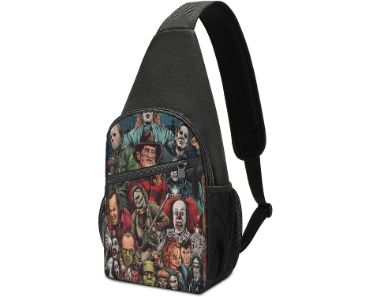 Are you looking for a lightweight shoulder bag perfect for bringing your horror movie costumes and accessories on the go? The Oxford cloth is delicate but durable, making it ideal for carrying a lot of weight. Plus, the shoulder strap is adjustable so that you can fit any body type. Whether you're looking to relieve pressure on your shoulders or want to feel comfortable while commuting, this bag is made for you. With this versatile and lightweight shoulder bag, you can take your Halloween costume to the next level.
Disney Halloween Crossbody Bag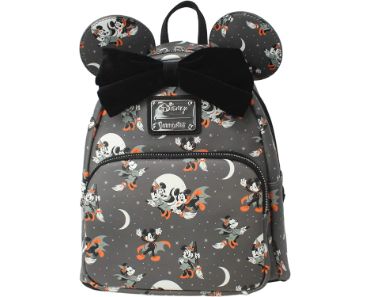 Disney Halloween crossbody bag is a luxurious ladies' bag. Its all-over Mickey Mouse theme features a colorful print on faux leather. This is the perfect bag for every Disney fanatic, and everyone loves Mickey and Minnie Mouse every time of the year. You can carry it to Disney World, Disneyland, or Halloween parties and show it off everywhere. It has printed details, a black Minnie bow embellishment, and a zipper pocket on the front.
Skull PU Leather Crossbody Bag for Women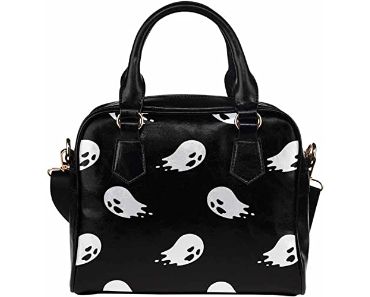 This Skull crossbody bag is a trendy handbag worn casually or formally. Both handles and shoulder straps can be adjusted to fit all women's sizes—great bag for Halloween parties, ghost camping, holidays, Halloween shows, etc. The fashionable skull design adds charm and style to your style. The bag is carefully crafted from high-grade PU leather and boasts a smooth, waxy finish that is durable, stylish, and able to withstand the rigors of daily use. This bag can be a shoulder bag, handbag, crossbody bag, or tote bag.
Novelty Ghost Crossbody Halloween Purse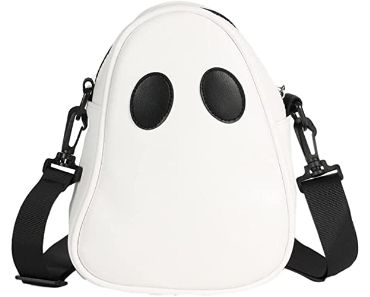 Whether you're dressing up for Halloween or just want a cute purse, this spooky ghost purse is for you! This bag is made of durable PU leather with an adjustable strap and zipper closure. It comes with a small front pocket to store other small items. As a bonus, it can also be used as a snack bag for your trick-or-treaters. This purse is convenient and versatile, and it can be used as a shoulder bag, crossbody bag, and chest bag just to suit different activities or scenes.
In conclusion, if we recall, Halloween is a perfect time of year to dress up, and a crossbody bag is an ideal accessory for any outfit. These bags are worth checking out if you're looking for a stylish and practical gift. There are a lot of different Halloween crossbody bags on the market, but you don't have to go out and spend a lot of money on one. By following these 15 stylish Halloween crossbody bag collections, you'll be able to get the perfect bag for your next costume party quickly.