Are you an on-the-go explorer who loves to travel light without sacrificing style and functionality? If so, you're in for a treat! In this blog post, we'll introduce you to the perfect mini travel bag that is tailor-made for adventurers like you. Whether you're embarking on a weekend getaway, a business trip, or a day of exploration in a new city, having a compact and versatile mini travel bag is essential. It allows you to carry your essentials while keeping your hands free and your belongings organized.
Table of Contents
The perfect mini travel bag combines style, durability, and practicality to meet the needs of travelers who value convenience and efficiency. From compact crossbody bags to sleek backpacks, we've curated a selection of top-notch options that will revolutionize your travel experience. In the following sections, we'll delve into the features, benefits, and real-life testimonials of these amazing mini travel bag . Get ready to discover your perfect travel companion that will elevate your adventures to a whole new level of comfort and style.
WANDF 18x14x8 Mini Travel Bag for Women
The WANDF 18x14x8 mini travel bag is designed to help you save on carry-on charges with its size that fits the personal item requirements of airlines. With a capacity of 25L, it can hold everything you need for in-flight comfort or even for an overnight trip. The bag is easy to carry with a trolley sleeve for attaching to a suitcase and exterior pockets for daily essentials. Made of durable nylon, it is water-resistant and tear-resistant. It is a versatile bag suitable for various purposes like weekends, gym, sports, and travel.
Yeegras Hanging Toiletry Travel Bag for Women
The Yeegras toiletry mini travel bag is designed with convenience and functionality in mind. With dimensions of 9.3×7.5×3.2 inches, it is the perfect size for travel, fitting easily into suitcases and backpacks. The attached hanging hook allows you to conveniently hang the bag for easy access to your toiletries, and it can also be used to store the bag when not in use. The bag offers a large storage capacity, allowing you to keep all your essentials. Made of durable water-resistant polyester fiber and comfortable mesh cloth, it is suitable for wet environments.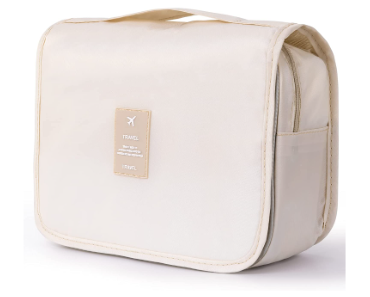 Travelon Anti-Theft Classic Mini Shoulder Bag
The Travelon classic mini shoulder bag offers superior organization and security features. With multiple storage pockets, including an interior wall wallet, it keeps your belongings organized without the need for extra accessories. The anti-theft security system provides protection against common types of theft, including grab-and-go, pickpocketing, slash-and-grab, slash-and-run, and electronic identity theft. The bag also features RFID-blocking pockets and a tethered key clip with an LED light.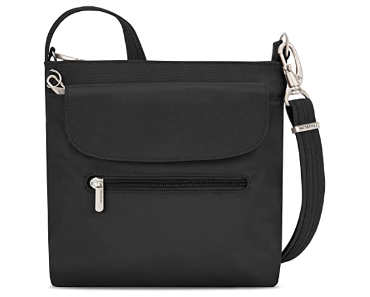 BAGSMART Toiletry Mini Travel Bag for Men
The BAGSMART toiletry mini travel bag for men is made of high-quality PU leather, ensuring durability and easy cleaning. It offers a large capacity with elastic straps to hold bottles upright and multiple pockets for organizing toiletries and shaving supplies. The bag features a separate waterproof pocket for wet or dry items and a back panel for flat organization. The double zipper design provides quick access, and its versatile design makes it suitable for both home and travel use.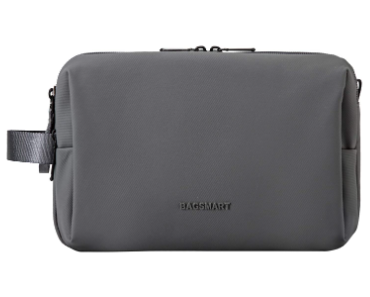 SEAFEW Small Unisex Crossbody Shoulder Bag
The SEAFEW mini crossbody bag is a lightweight and durable bag with a large capacity. It features a small zippered pocket for phones, wallet, or travel essentials. The bag includes a USB charging port for convenient device charging on the go. Made of high-quality nylon, it is waterproof and easy to clean. The breathable mesh back and adjustable shoulder strap provide comfort. With multiple pockets and versatile wearing options, it is suitable for various occasions and everyday use.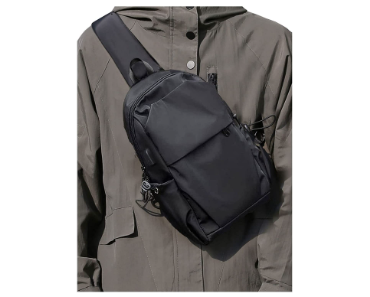 Dalix 12-inch Mini Two-Tone Duffle Bag
The Dalix mini duffle bag is a portable and versatile bag with a single zipper closure and a front pocket for easy storage. It features inner compartments to keep your accessories organized. Made of 600D polyester, it is lightweight and durable. The bag includes an inner zipper pocket and a side carry handle for added convenience. This 12-inch bag is suitable for travel, gym use, and more.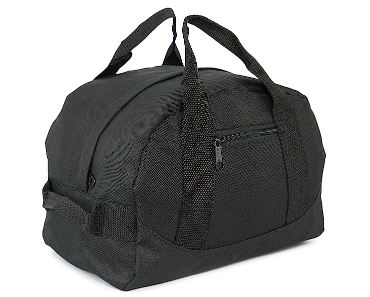 Baggallini Bryant Crossbody Mini Travel Bag
The Baggallini mini crossbody mini travel bag offers all-day comfort with its adjustable and removable strap. It is lightweight, water-resistant, and easy to clean. With built-in RFID-blocking technology, it ensures the safety of your personal information. The hands-free design and quick-access compartments allow you to stay present and organized throughout your day. This small crossbody bag measures 5×7.25×0.75 inches, making it a perfect lightweight choice for travel.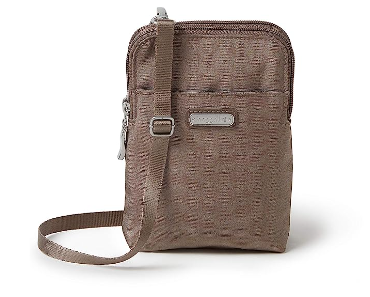 Etronik Small Traveling Bag for Women
The Etronik small traveling bag for women is a versatile gym bag with multiple functions. It features a USB interface for convenient phone charging on the go. With a large capacity and various pockets, it can store a wide range of items. The bag includes a separate compartment for shoes and dirty clothes with ventilation to prevent odor. Made from durable and water-resistant nylon, it offers comfortable handles and straps. Suitable for various activities, it can be used as a gym bag, mini travel bag, weekend bag, and more.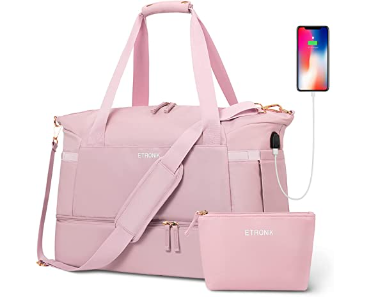 Narwey Small Cosmetic Bag for Women
The Narwey small cosmetic bag offers multiple compartments for organized storage of makeup items. It features a main compartment with three small pockets, as well as additional side pockets for concealer, lipsticks, mirrors, or brushes. Made of soft PU leather, it has reliable double zippers and a zip-top closure. The bag is water-resistant, protects against spills, and is lightweight and portable with a compact size.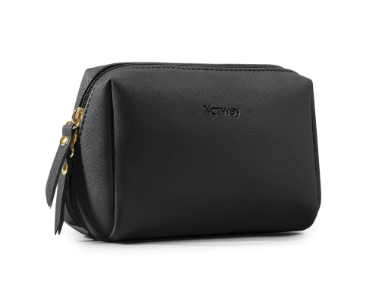 MOSISO Sling Small Bag for Travel
The MOSISO Small bag for travel has dimensions of 14.17×7.48×2.76 inches and offers a main compartment that can hold various items. It also has multiple pockets for phones, wallets, and other small items, as well as side mesh pockets for a water bottle or umbrella. The adjustable shoulder strap and two carrying options provide comfort and flexibility. Made of durable polyester, the bag is suitable for outdoor activities and office use.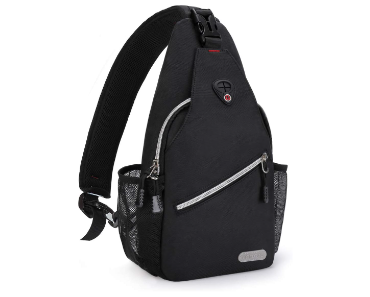 SYCNB Mini Messenger Shoulder Bag
The SYCNB small shoulder bag is made of nylon and polyester fiber. It is a compact size and the bag features multiple compartments, including a main zip pocket, card pocket, cell phone pocket, and front pocket with a flap. It comes with an adjustable and removable shoulder strap and a metal carabiner. The bag can hold essentials like keys, wallets, glasses, and more for daily use or outdoor activities.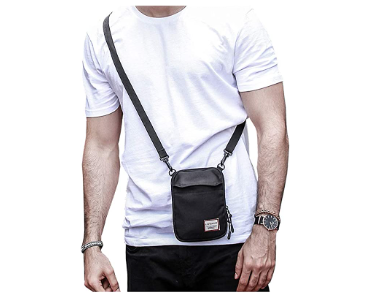 ECOHUB Small Foldable Duffel Travel Bag
The ECOHUB mini foldable duffel bag is the perfect personal item bag for airline travel. It offers a roomy capacity with easy access through large openings, featuring a main pocket, an inside pocket, and an outside pocket for quick access to essentials. The bag is made of thickened nylon handle and waterproof fabric, ensuring durability and protection against rain or moisture. It is also eco-friendly, as it is made from recycled PET fabric and certified by GRS for its high quality.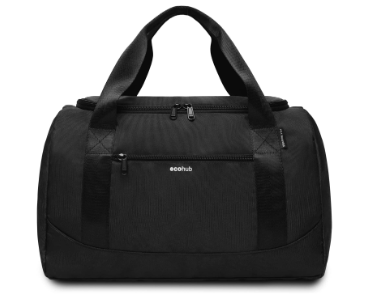 Relavel Small Travel Makeup Bag for Women
The Relavel mini travel cosmetic bag for women is made of high-quality PU leather material, providing durability and water resistance. It features a double-layer organization with multiple compartments for easy storage and access to toiletry accessories. The bag includes a special brush storage location to protect makeup brushes, with additional slots for carrying various makeup tools. Its compact and lightweight design makes it perfect for travel that offers a convenient and organized solution for carrying cosmetics anywhere.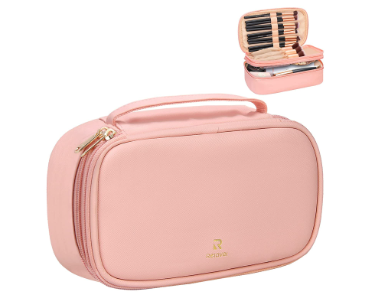 BuyAgain 12″ Duffle Small Bags for Travel
The BuyAgain 12-inch duffle small bags for travel are made of durable 600D Polyester material. They feature a zippered main compartment, a zippered front pocket, and both top and side handles for easy carrying. With a compact size of 12x8x8 inches, these bags are suitable as carry-ons for flights and can fit under airline seats. They are versatile for overnight trips, gym use, outdoor outings, and emergency situations, and can be easily folded when not in use.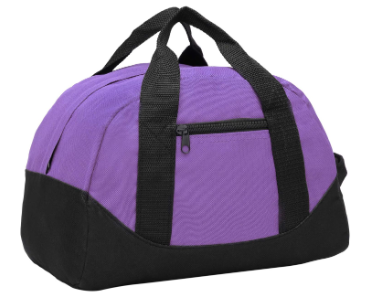 Vcekract Mini Cosmetic Bag for Women
The Vcekract mini cosmetic bags are perfect for storing earphones, lipstick, accessories, cosmetics, and more. They feature a no-zipper design sealed by durable electroplated iron shrapnel, allowing easy access to the bag's contents. Made of upgraded waterproof fabric, these mini bags are lightweight, fade-resistant, and durable. With a portable size, they easily fit into handbags, backpacks, and pockets, helping you keep your items organized and accessible at all times.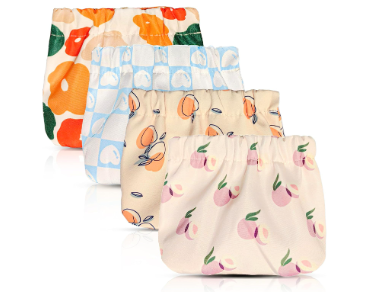 In conclusion, we have unveiled the perfect mini travel bag options for on-the-go explorers like you. These compact and versatile bags offer a harmonious blend of style, durability, and practicality, making them essential companions for your adventures. Whether you prefer a crossbody bag for easy access, a sleek backpack for hands-free convenience, or a multifunctional tote for versatility, there's a perfect mini travel bag out there to meet your specific needs. By investing in the right mini travel bag, you'll have the freedom to explore without being weighed down by bulky luggage. Your essentials will be organized and within reach, allowing you to navigate new destinations with ease.
So, don't hesitate to discover and choose the perfect mini travel bag that resonates with your travel style. It's time to upgrade your travel gear and embark on unforgettable journeys, always equipped with the ideal companion by your side.