Traveling is fun, but it can also be a hassle. There are so many details to keep track of when you're on the go. For many people, the most frustrating part of a trip is the hassle of packing and unpacking the dirty clothes. To make things easier, you should get a few good travel laundry bags. You can use them to organize your luggage, separate dirty clothes from clean ones, and make a perfect environment inside the bag.
Here, we've selected the 20 best travel laundry bag collections that will be useful while traveling to keep dirty clothes separate from clean ones.
Washable Large Waterproof Travel Laundry Bag 2 Pcs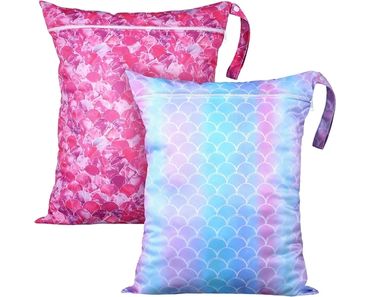 This portable laundry bag is made of high-quality and durable material to keep your clothes safe and dry all the time. This laundry travel bag is practical and convenient for any travel needs. Plus, the size of the travel laundry bag is large enough to meet your requirements. This laundry bag is washable and waterproof and is made of reliable polyester material with a soft-to-touch metal zipper, safe for your clothes, and not easy to break.
Heavy-Duty Extra-Large Travel Laundry Bag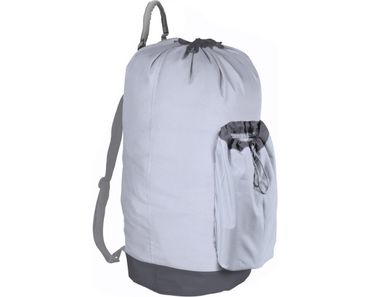 With this heavy-duty and extra-large travel laundry bag, you can conveniently transport your laundry to and from the laundry room in style. Comes in three colors – Black, Gray, and Blue and features adjustable shoulder straps, the laundry backpack makes it easier and more comfortable for people to carry dirty clothes and make it safer to go up and down stairs. This laundry bag backpack comes with a large capacity and strong handles along with separating your dirty clothes into different sections to keep the bag organized.
Durable Drawstring Laundry Travel Bag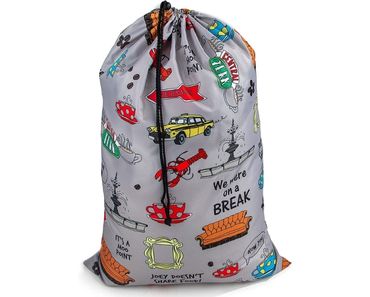 This laundry bag is perfect for an organized dorm room or laundry room, this drawstring laundry bag can be used for anything – from daily essentials to laundry. The size of the bag is large, measuring a dimension of 21 x 32 inches which is durable and can hold a lot of stuff. It also features a colorful, fun design that coordinates with the other accessories. The fun design and unique fabric patterns make this a durable bag you'll love using over and over again and makes it simple to use.
Eagle Creek Dirty Cube for Travel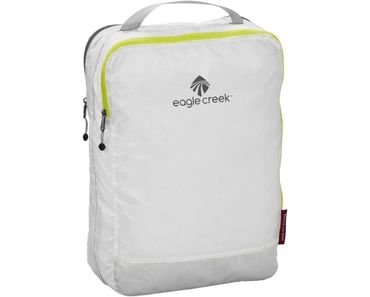 Stop your travel bag from getting messy or even dirty from just one trip. Separate dirty clothes from clean and other common odors with the innovative pack-it specter clean dirty cube. This Eagle Creek's dirty cube is a must-have for keeping your travel bags organized. The water-repellent material allows you to pack your clothing separately, while a mesh divider keeps the two compartments separated. The convenient divider allows you to travel cleanly.
Kikkerland World Map Travel Laundry Bag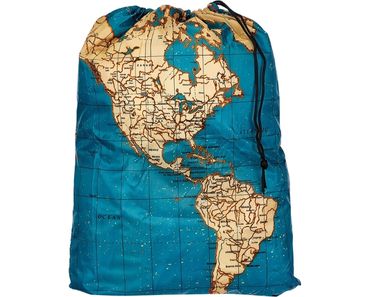 The Kikkerland World Map Travel Laundry Bag is a highly functional bag that is ideal for travel. This bag is made of durable polyester material and the bag will last for many years. The world map design is unique and attractive and will make you feel confident. The bag measures approximately 22 x 39 x 16.14 inches which are pretty big for keeping the dirty clothes for the whole trip. This bag easily fits into drawers, under the bed, or in the trunk of a car which can be folded and neatly stored for any occasion.
MIAMICA Dirty Laundry Travel Bag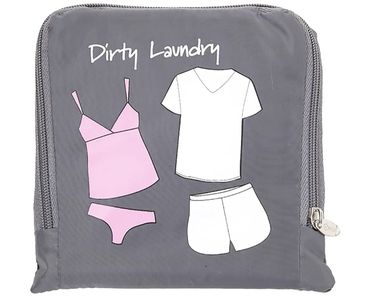 The Miamica Dirty Laundry Bag is a must-have for travel. With its Miamica markings, this bag keeps your dirty clothes separate so that you don't mix them up with clean ones. The large bag measures 21 x 22 inches, making it ideal for long trips. The polyester material is durable and lightweight, ensuring you can fold the bag and store it easily. This dirty laundry travel bag was designed with fun colors and patterns, so it'll add a unique touch to your travels.
MIAMICA Foldable Travel Laundry Bag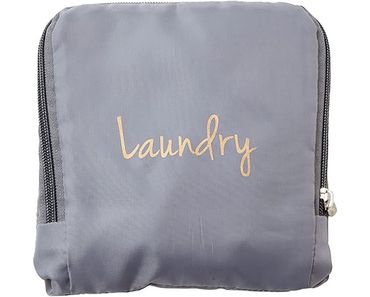 The Miamica Laundry Bag has an expandable design that unzips to fit more than one week's worth of dirty laundry. This bag is made of a lightweight and durable polyester material that resists tearing and moisture. Whether you're packing for a vacation or heading to the gym, you'll love the spacious bag that can easily hold one week's worth of dirty clothes. A removable drawstring closure keeps all items securely inside and you'll love this laundry bag with you on your next adventure.
Miamica Lightweight Foldable Travel Laundry Bag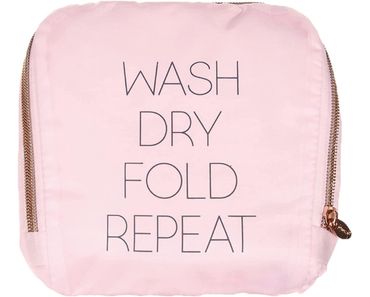 Get summer ready with Miamica's lightweight travel laundry bag to keep your suitcase organized with this convenient traveling essential. This expandable design starts out small for easy packing, but unzips and opens up to hold about a week's worth of dirty laundry. With this Miamica laundry bag, you'll be able to keep your suitcase organized by keeping the dirty clothes separate. This bag is essential for any traveler which is lightweight, collapsible, and fully adjustable that fits neatly into your suitcase to make packing for your next adventure a breeze.
Wash Me Extra Large Travel Laundry Bag 2 Pack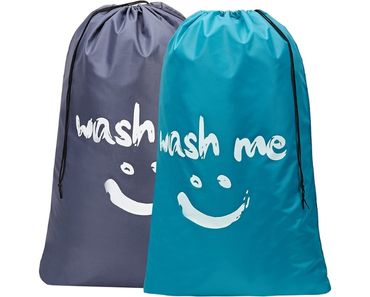 These laundry travel bags are great for holding many different items such as laundry, toys, bedding, and towels. For those times when your unmentionables need to stay out of the public eye, the Wash Me XL travel laundry bag will keep the contents of your hamper, bed, or luggage safe and secure. With the thickness of the nylon material, even when the bag is completely filled with clothes or linens, it will not tear or rip, keeping everything inside.
Collapsible 2 Pcs Laundry Bag for Travel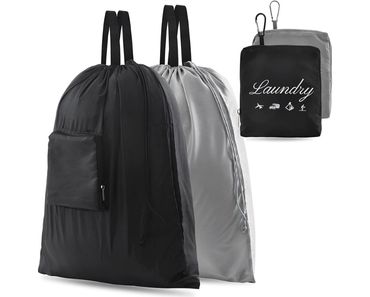 Traveling? Forget to fold your dirty clothes? This JHX collapsible laundry bag for travel can solve your problem. It is made of high-density 210D nylon, and it can hold up to 22 pounds. It's small enough to be stored in the luggage and can hold 20% more than older versions. This travel dirty laundry bag is perfect for separating and protecting your clean clothes from those dirty. This unique Travel Laundry Bag makes packing and organizing your laundry easy.
Heavy Duty Large Washable Mesh Laundry Bags for Travel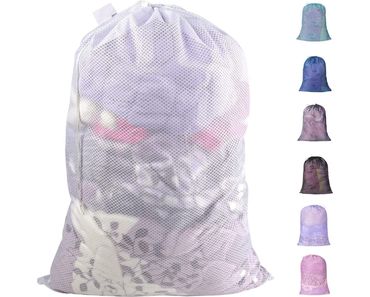 Whether you're going on a quick trip or an extended vacation, this set of large mesh laundry bags can come in handy. The bags are large enough to store clothing for all members of the family. They are great for travel since they can easily hold 2-3 loads of clothes. The bags are ideal to hold damp blankets, beach towels, gym clothes, linens, and any laundry you need to be washed.
Machine Washable Nylon Laundry Bag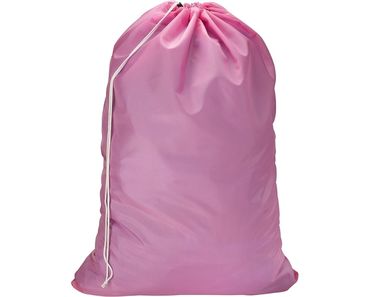 Nylon laundry bags is what you want to protect your clothes and keep your laundry organized. This is a perfect-sized laundry bag that is easy to carry and lift. These handy laundry nylon laundry bags feature two sturdy straps for easy carrying. Also, with a drawstring closure that keeps clothing protected and secure. This travel bag has more than 6 different colors of laundry bags that can meet all your needs and is machine washable and durable.
Extra-Large Heavy-Duty Laundry Bags 2 Pack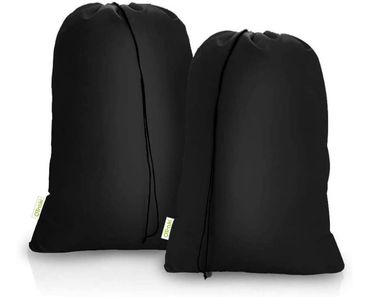 Great for the minimalist in you, these large laundry bags can be used simply as a dirty clothes organizer. These extra large heavy-duty laundry bags are large enough to hold 2-3 loads of dirty clothes. This laundry bag is durable and tear-resistant along with special reinforcement stitching and double-layer can make the bags avoid tearing problems in middle. The drawstring cinch top can be tightened and used as a laundry basket liner, keeping items contained, and stopping clothes from slipping or falling out.
Heavy Duty Travel Laundry Bag 2 Packs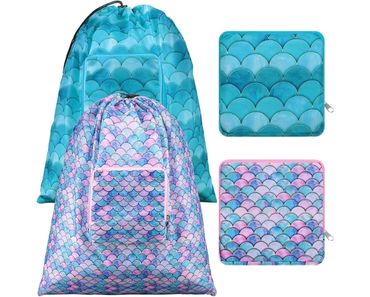 Heavy Duty Travel Laundry Bag is made of quality nylon material, durable and machine washable, durable enough for long time use. You can use it with confidence and no longer worry about your dirty clothes that will be messy everywhere. This laundry bag is designed with a drawstring closure to prevent items from being dropped and lost during transport, and the closure can be tied in a knot to make clothes safer in the bag when carrying them.
Casaphoria Mesh Travel Laundry Bags Set of 5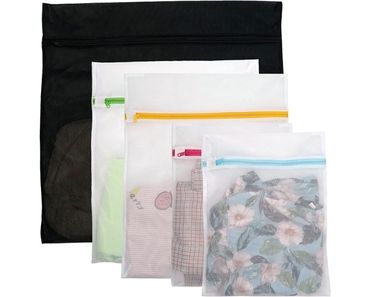 Say goodbye to digging around your luggage for your favorite scarf, blouse, or socks. This set of 5 bags allows you to separate your delicate items while keeping them together for your trip. The size is ideal for storing in your luggage until you need them. The mesh laundry bags are made of the highest quality and durable polyester. They are also very easy to use and will make your life easier and more enjoyable, from the adventurous to the organized.
Travel Fanatics Washable Small Laundry Bag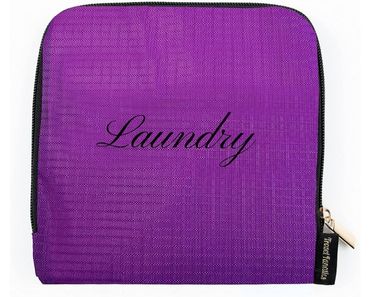 Travel Fanatics is a leader in producing the highest quality washable laundry bags. We know what it means to create a long-lasting product for the modern-day traveler. The Travel Fanatics washable small laundry bag will keep your dirty laundry contained. When you are done with your laundry – packing up is a breeze, just fold back inside and zip closed. In the family for years to come – durably designed in California with luxurious materials, this travel laundry bag is built for long-term use. Use it to set the stage for countless adventures with loved ones.
Mesh Laundry Bag for Traveling 7Pcs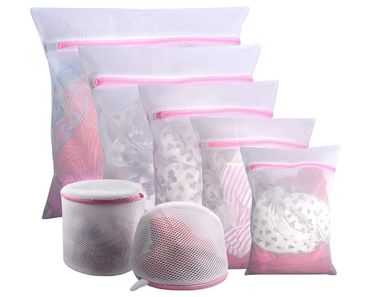 Are you tired of the constant mess of laundry while traveling? Are you afraid of your clothes and delicates getting mixed up? Now, this mesh laundry bag comes to help you out. This bag is made of high-density, durable, and flexible polypropylene mesh. These washing bags for laundry allow soap, water, and air to flow through the bag easily, which means no more random washing and hiding. These zippered bags are not only for washing clothes, you can also store your lingerie, socks, bra, underwear, towel, Sheet, bag, snacks, baby product, bath ball, cloth, etc.
Heavy Duty Large Washable Laundry Bags for Travel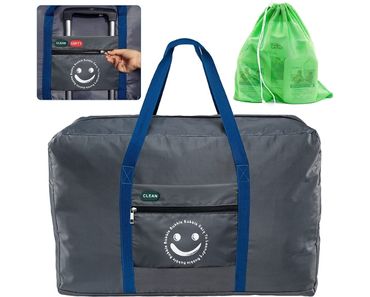 Traveling can be tough on your clothes. These laundry bags are designed to prevent any clothing tears, rips, or tears. At the same time, these bags are designed to help you separate dirty clothes from clean ones. This heavy-duty large washable travel laundry bag features excellent workmanship and unique design, making it not only a laundry bag but also a storage bag and a packing bag. With the clean and dirty indicators, it will help you to separate the clothes easily.
Large Travel Laundry Travel Bag for Dirty Clothes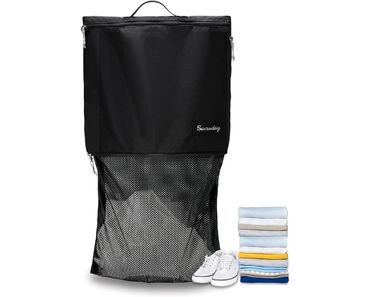 This travel laundry bag for travel helps you get your dirty clothes home safely without smelling up or contaminating the rest of your bag. This bag is made of the waterproof outer fabric that locks in any moisture, germs, or odors. You can also place your dirty things in the bag from the side pocket to make them more hygienic. Scrap the plastic bags and upgrade to a smarter way of carrying dirty clothes for travel, gym, healthcare workers, swimwear, camping, and sports.
Washable Heavy Duty Laundry Travel Bags 6 Pieces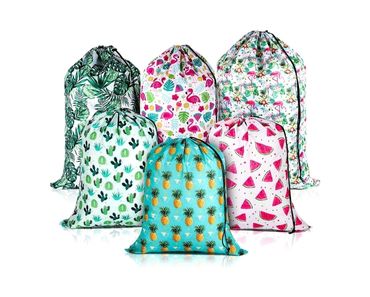 This washable travel laundry bag is made of double-seamed nylon material that is easy to clean. The bag is used to be made of a 1/2-inch plastic head at the end of the drawstring so that it won't come off. The Shappy store wanted the bag to be easily stored and portable when traveling. It is durable and makes it hard for dirty items to fall out. There are 6 color and design variations of the bag which is good for traveling. Also, the size can meet your actual needs, just choose the size you need to meet your demands.
Finally, with so many different types and brands of travel laundry bags available on the market, it can be hard to know which one is right for you. Hopefully, our list of 20 best travel laundry bags has given you a good starting point in your search for the perfect bag for your needs. Remember to consider factors such as size, material, and price when making your decision, and choose wisely. After all, you don't want your precious clothes ruined by a faulty or poorly chosen laundry bag.
Why Put a Bag on Car Mirror? Explained the Query – World Travel Bag