When it comes to traveling with your beloved surfboard, ensuring its safety and protection is of paramount importance. That's why finding the perfect surfboard travel bag becomes a crucial decision for surfers of all levels. Whether you're heading to a local beach or embarking on an exotic surf trip abroad, the right travel bag can make a world of difference in safeguarding your board from dings, scratches, and other potential damages. So, what is the best surfboard travel bag? In this comprehensive guide, we will explore the best surfboard travel bag, so you can maximize protection and embark on your surfing adventures with peace of mind.
Table of Contents
How to Pack a Surfboard Bag for Travel?
Packing a surfboard bag for travel requires careful attention to ensure your board remains safe and secure throughout the journey. Follow these steps to properly pack your surfboard travel bags:
Before packing, make sure your surfboard is clean and dry. Remove any wax, sand, or debris to avoid damage during transit.
Wrap the nose, tail, and rails of your surfboard with bubble wrap or towels. This provides extra padding and protection against impact.
Slide your surfboard into the bag with the wrapped areas facing inward. Ensure that the fins are well-protected, either by removing them or using fin guards.
Place towels or clothes around the board inside the bag to provide further cushioning and prevent any movement during travel.
Use the straps or tie-downs provided in the bag to secure your surfboard in place.
Avoid exceeding the weight limit to prevent extra charges or potential damage to the bag.
Close the bag and securely zip it up. If the bag has a lock, use it to protect your surfboard from theft or unauthorized access.
By following these guidelines, you can travel with peace of mind, knowing that your surfboard is packed securely and ready for your next adventure.
Pro-Lite Wheeled Coffin Surfboard Travel Bag
The Pro-Lite wheeled coffin surfboard travel bag is specifically designed for traveling surfers carrying 2-4 boards. It features a 25″ width and a 10″ gusset, allowing for extra internal volume. The bag includes internal dividers and a 2mm board packer bag, along with a 600 Denier poly on the top and bottom for durability. This surfboard bag travel offers multiple interior storage pockets for fins and other accessories, while a vent promotes airflow to keep the boards cool.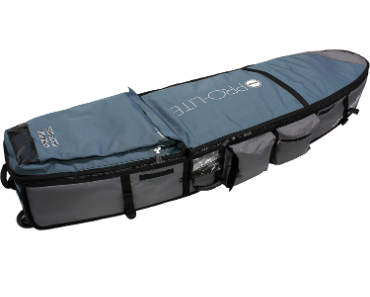 Dakine John John Florence Surfboard Bag
The Dakine John John Florence surfboard bag is a high-quality bag that is made from 100% polyester. It features a lightweight and durable 420D nylon ripstop top and a heat-reflecting power protection base for added protection. With 3/8″ closed-cell foam padding, it ensures excellent cushioning for your surfboard. The bag also includes a stash pocket with a YKK PU-coated zipper, providing secure storage and protection for your valuables against rain and splashes.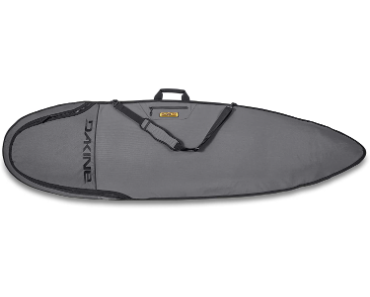 WONITAGO Lightweight Surfboard Travel Bag
The WONITAGO lightweight surfboard travel bag offers excellent protection for your surfboard with its durable 600D fabric and waterproof PE material. The bag is suitable for various surfboard shapes, with sizes ranging from 6'0 to 10'0. It boasts advantages such as corrosion-resistant double YKK zippers, a comfortable carry handle, an adjustable wide shoulder strap, and a built-in Velcro pocket. The bag also provides ample storage, including space for fins and an inner pocket for surf wetsuits or gear.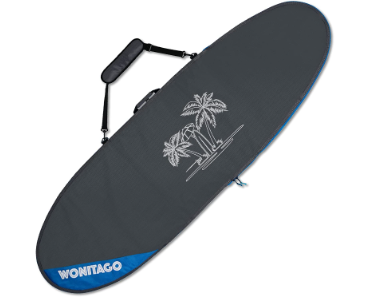 Ho Stevie! Durable Surfboard Travel Bag
This durable travel surfboard bag by Ho Stevie! provides superior protection with its thick foam padding and heavy-duty tarpaulin/canvas outer layer. It accommodates shortboards, funboards, and longboards, with a width of 27″ that fits most board types without the need to remove fins. The bag features a comfortable carrying experience with a padded shoulder strap that can be removed. Its white tarpaulin material is heat and water-resistant, reflecting sunlight and preventing wax from melting off your surfboard.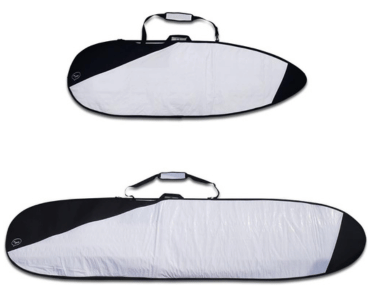 Dakine Daylight Noserider Surfboard Bag
The Dakine Noserider surfboard bag is made of a combination of 50% polypropylene and 50% nylon, ensuring durability. It features a heat and water-resistant tarpaulin material, providing enhanced protection. With 1/4″ (6.5mm) foam padding, your surfboard is well-cushioned. The heavy-duty YKK coil zipper ensures secure closure, while the zippered fin slot allows for convenience. The bag includes a non-slip padded shoulder strap with a stash pocket, offering comfortable carrying options.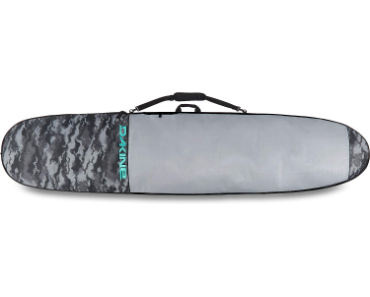 Pro-Lite Finless Coffin Surfboard Travel Bag
The Pro-Lite Finless Coffin surfboard bag for travel is designed for traveling surfers carrying 2-3 boards. The bag features 10mm foam protection for optimal safety. It includes an internal divider and seat belt straps, along with four exterior compression straps and 600 Denier poly on the top and bottom for durability. It offers an adjustable deluxe shoulder strap with a Velcro closure system, an exterior side pocket for tie-downs, and molded rubber handles on the ends and side for easy transportation.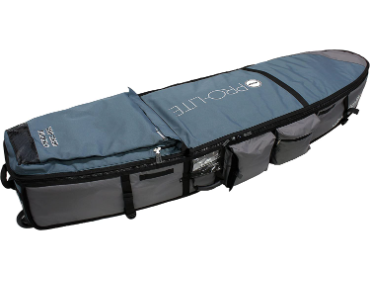 Dakine Recon Double Surfboard Travel Bag
The Dakine Recon double surfboard travel bag is composed of a blend of materials, including polyester, neoprene, nylon, spandex, and polyurethane. It accommodates up to two boards, concealing the bottom board from sight. The bag features a lightweight and durable 600D diamond ripstop top, along with a heat-reflecting energy shield bottom. With 3/8″ (10MM) closed cell foam, it provides maximum protection. The bag is equipped with a heavy-duty YKK materialized zipper that includes inner rail guard.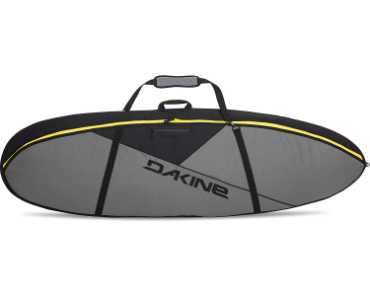 OCEANBROAD Surfboard Travel Bag
The OCEANBROAD surfboard travel bag features a round head and round tail shape, along with a fin slot opening. The bag offers excellent protection with durable heavy-duty reflective shells and 5mm padding on each side, reinforced with an extra 8mm at the head and tail sections. The bag is built to last, with reinforced and box stitching, inner patches for added strength, and multiple storage pockets. It provides comfort with a padded carry handle, adjustable shoulder strap, and a thick shoulder pad for pressure relief.

UCEDER Surfboard Cover for Outdoor Travel
The UCEDER surfboard cover for outdoor travel offers maximum protection for your surfboard. It features a polyester top, UV reflective bottom, and 5mm foam padding on each side, along with reinforced nose and tail sections. The bag has corrosion-resistant double zipper closure and a removable, adjustable padded shoulder strap. It provides ample storage with an inner pocket for personal belongings and an exterior zipper pocket for gears. The bag also includes a 360-degree rotation buckle for easy installation and removal.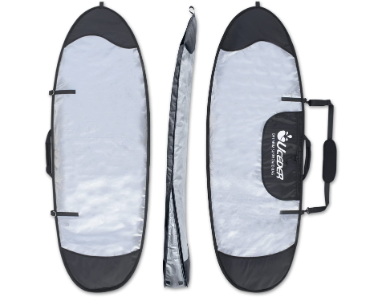 Abahub Premium Surfboard Travel Bag
The Abahub premium surfboard travel bag is constructed with premium materials. The bag provides extra protection with air vents for heat dissipation and 600D nylon for nose and tail protection. It features a convenient external gear storage pocket, an inside fin pocket with Velcro, and a flexible tail section for fins. The bag ensures comfortable carrying with a padded adjustable shoulder strap and a durable ergonomic plastic handle. Choose the Abahub surf board travel bag for a thoughtful design and reliable durability.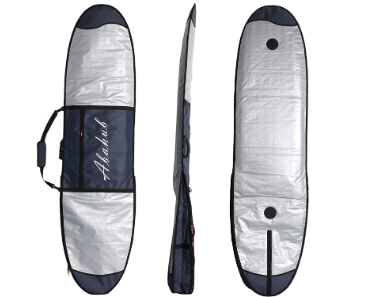 In conclusion, choosing the perfect surfboard travel bag is not a task to be taken lightly. By considering factors such as size, padding, durability, and additional features like wheels or backpack straps, you can find a travel bag that meets your specific needs and provides maximum protection for your surfboard. Remember to prioritize quality over cost and invest in a reputable brand that offers a warranty for added peace of mind. With the right surf travel bag in your arsenal, you can embark on your surf adventures with confidence, knowing that your board is well-protected and ready for the waves. So go ahead, find the perfect surfboard travel bag and make your travels worry-free!